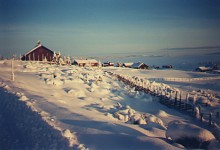 Following in the tracks of the greatest polar explorers of all time …
This country has fascinated Bernard for a long time. Norway was his first stop in Europe: the fjords, the Nordic landscapes, but also the country of great polar explorers like Nansen and Amundsen. And, needless to say, it is also a cross-country skier's paradise.
Bernard is qualified as a cross-country skiing instructor, and gave pre-season training for high-level French skiers. He stayed seven times at Nordseter, the Lillehammer Olympics site, an unforgettable experience during which he met such great athletes as Pal Gunnar Mikkelplass, Vegard Ulvang and others.
Long walks on the shores of Oslo Bay, meeting explorers Erlin Kagge and Borge Ousland, visiting the polar ship Fram or the famous ski jumping hill the Holmenkollbakken…
It all just strengthened Bernard's Polar dreams..