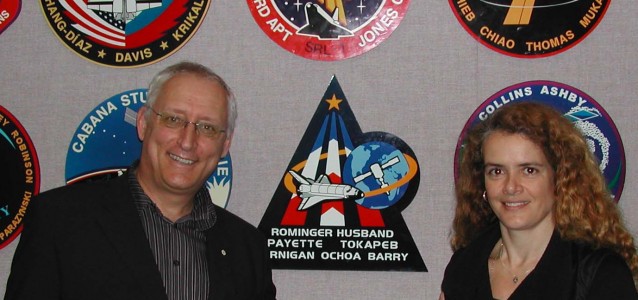 Bernard was a guest speaker for NASA astronauts, at the Johnson Space Center, in Houston, Texas. He stays in touch with a number of astronauts and scientists who are especially interested in climate change and its impact on polar regions.
"Bernard,

I want to again express my thanks to you and Nathalie for taking the time to speak to the astronaut corps. You have done many amazing things and we can all learn from your experiences! I hope that we will be able to get you to come back in the future as our Exploration Branch moves toward preparing astronauts for moon and Mars missions."

Cptn. Kent V. Rominger, Chief, Astronaut Office NASA, Houston, Texas
He also spoke at the Medicine in Challenging Environments conference, organized by the University of Texas Medical Branch (UTMB), in Galveston, Texas.
*Photo : with Canadian astronaut Julie Payette.