A – Everest (8 850m)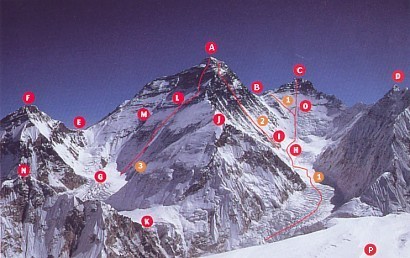 B – South Col (7 980m)
C – Lothse (8 511m)
D – Nuptse (7 861m)
E – Col Nord (7 066m)
F – Changtse (7 583m)
G – Rongbuk western glacier
H – West Coomb
I  – Location of camp 2 (6 500m)
J – West Shoulder (7 309m)
K – Lho La (6 026m)
L – Hornbein Corridor
M – Norton Corridor
N – Khumbutse (6 685m)
O – Normal Lothse route
P – Pumori summit (7 135m)
1 – Normal route taken by Hillary and Tenzing Sherpa on May 29, 1953. Also the route taken by Bernard Voyer and Dorjee Sherpa on May 5, 1999.
2 – SW face (Bonington route): On September 24, 1975, Douglas Haston and Doug Scott, then Peter Boardman and Pertemba, probably followed by Mike Burke, disappeared not far from the summit.
3 – N Face (Japanese corridor): On May 10, 1980, Tsuneoh Shigehiro and Takashi Ozaki.
(Excerpt from : Vertical Magazine)