The National Weather Serve and the Meteorological Services of Canada use now a new formula to compute wind chill values. The new formula provides a more realistic wind chill value than the current formula, which has been in use since 1973 (base on 1945 research).
The wind chill index is computed hourly from National Weather Service reports of temperature and wind speed. The old index used the winds measured at an altitude of 10 metres where the winds are generally stronger. The new formula will use wind speeds taken at 10 metres high and reduce them to a 1,5 metres altitude speed. As a result, wind chill values obtained with the new formula are not as low at the ones calculated with the old index.
Wind chill calculation chart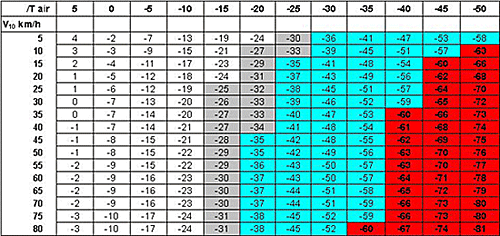 T air = Actuel air temperature in °C
V10 = Wind speed at 10 mètres in km/h (as reported in weather observation)
Approximate Threshold:
Grey: Risk of frostbite in prolonged exposure.

Blue: Serious f

rostbite possible in less than 10 minutes (Shorter time if the skin is cool at the start).
Red: Serious frostbite possible in less than 2 minutes (Shorter time if the skin is cool at the start).