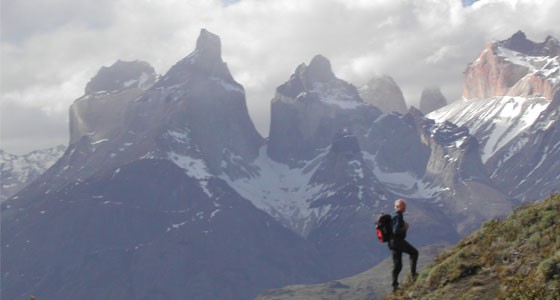 Last stop before leaving for Antarctica
This city in Chile at the tip of Tierra del Fuego was the jumping-off point for Bernard's first trip to Antarctica in 1993. Aboard a ship with a Russian crew he made a reconnaissance trip for his South Pole expedition, with a stop on Cape Horn. Walking into the wind, with his gaze on the horizon, he could feel his Antarctic dreams taking shape.
He returned to Punta Arenas in 1995 with Thierry Pétry, to board a plane for Antarctica. He was back in 2001 with Nathalie Tremblay for another trip to Antarctica, this time to climb Mount Vinson.
Punta Arenas, on the shores of the Strait of Magellan, is one of the southernmost inhabited places on Earth. Just a few hours farther north by road, the Torres del Paine national park boasts untouched nature with rich wildlife and plant life, not to mention its unique rocky cliffs.
[cycloneslider id="torres-del-plaine-2″]