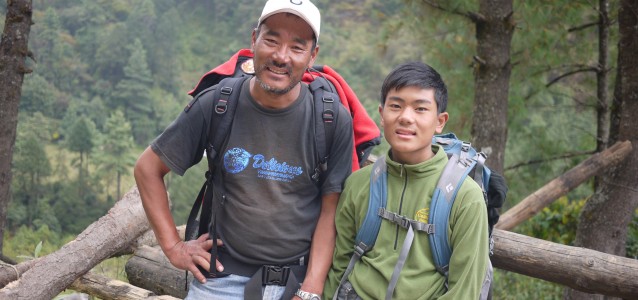 Based in the Everest region, Dorjee is an experienced climber with six Everest summits and more than a dozen expeditions to other peaks to his credit. Today he is Director of Expeditions and co-founder of a Nepalese trekking agency called Expedition Himalaya.
When he is not busy leading expedition groups high in the mountains, Dorjee keeps himself occupied running Buddha Lodge, a beautiful tea-house that he owns in the village of Phakding, a popular stop for trekkers and mountaineers en-route to Mt Everest.
Lastly, Dorjee is Nima's father. Bernard pays for Nima's education, and every year a group of donors pitches in to finance his tuition. Normally, attending a good school would be an impossible dream for a Sherpa child from a small village high in the mountains, with no electricity or running water.
Expeditions:
[cycloneslider id="dorjee"]