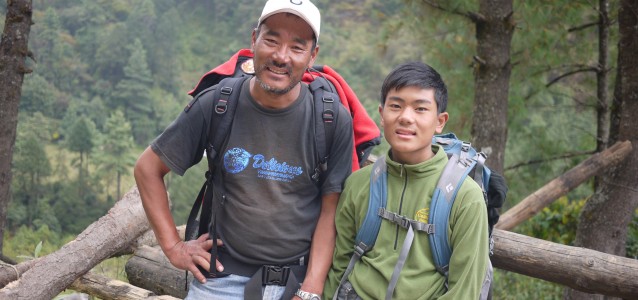 Based in the Everest region, Dorjee was an experienced climber with six Everest summits and participated in more than a dozen expeditions to other peaks. He was also Director of Expeditions and co-founder of a Nepalese trekking agency called Expedition Himalaya.
When he was not busy leading expedition groups high in the mountains, Dorjee keept himself occupied running Buddha Lodge, a beautiful tea-house that his family owned in the village of Phakding, a popular stop for trekkers and mountaineers en-route to Mt Everest.
Lastly, Dorjee was Nima's father. Bernard paid for Nima's education, and every year a group of donors pitched in to finance his tuition. Normally, attending a good school would have been an impossible dream for a Sherpa child from a small village high in the mountains, with no electricity or running water.
When Dorjee died in July 2022, Bernard wrote:
A few days ago I lost a friend whose friendship has always and deeply inhabited me. Dorjee, my companion, my "brother" on the Everest rope, has passed away. How can I forget our complicity in the effort and the breathlessness that pushed us to the summit?
How could I forget his contagious smile, the assurance of each of his steps, his spicy meals, his family…
He marked my life.
He who reached the sky six times, each time he came back, this time, he will stay there.
Goodbye my friend forever.
Expeditions:
[cycloneslider id="dorjee"]