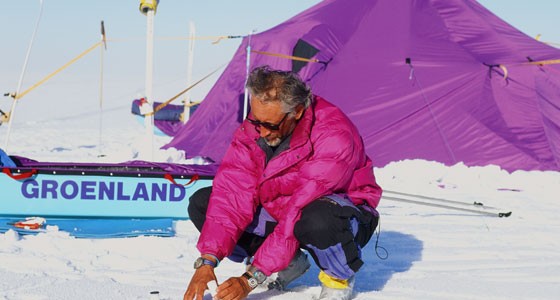 École polytechnique – Geological studies
World Tour expedition, 2004           
The primary goal of the research project was to study the samples loaned to the school by Bernard Voyer, which he had brought back from the highest mountain on each continent: Aconcagua, Kilimanjaro, Everest, Carstensz, Elbrus, McKinley and Vinson. A total of 17 laminae were described and subjected to chemical analyses. The samples were classified according to their composition and how they were formed, with impressive, internationally ground-breaking results.
Université Laval – Basal metabolism
South Pole expedition – Antarctica, 2004            
Basal metabolism reaction under conditions of privation, subject to stress and extreme effort. Dr. Angelo Tremblay, of Université Laval, was interested in Bernard Voyer's physiological reactions to the extreme conditions during his Antarctic expedition. The findings of his exhaustive study of Mr. Voyer's basal metabolism confirmed the intuitions of the leading scientists in this field for the first time ever. The study was published in The New England Journal of Medicine.
Centre d'innovation technologique – Agro-alimentaire Cintech AA – Nutrition
South Pole expedition – Antarctica, 1996
The research study looking at the nutritional aspect of the South Pole expedition concentrated on the ratio of carbohydrates, fats and protein in the daily diets of athletes performing under anaerobic conditions (11 hours of skiing a day) in extreme temperatures of -50°C for 65 days.
Université de Montréal – Biology
South Pole expedition – Antarctica, 1996
Pollen transport in Antarctic regions. Collected pollen on adhesive filters in Antarctica over a distance of 1,500 km. The study made it possible to determine whether pollen could travel from other continents to Antarctica.
Glaciology
North Pole expedition, 1994
Image illustrating the speed and power of movements of pack ice.
CNRS, France – Snow samples
Ellesmere Island, 1992   
The movement of glacial ice on Ellesmere Island in the Canadian Arctic. The CNRS in France used snow samples gathered on Ellesmere Island by means of geostationary marking to predict movements in the ice caps on Ellesmere Island, in the Canadian Arctic.